Computer Science A – Online
(This course can be taken alone or in conjunction with Computer Science Principles,
which is offered ONLINE July 15-18, 2-24)
Reg Hahne
rhahne@hcpss.org
Starting his teaching career in Australia, Reg Hahne immigrated to America and continued his career in the Howard County Public School System in Maryland, where he retired in 2013. He now shares his expertise continuing as a consultant to the College Board* and the Howard County Public School System. With 37 years' experience as a classroom teacher, Reg's expertise covers the gamut of instructional levels and disciplines from kindergarten through college. Reg has been an AP* reader and College Board* consultant for over two decades. He was also a member of the AP* Computer Science Development Committee from 2002 to 2006.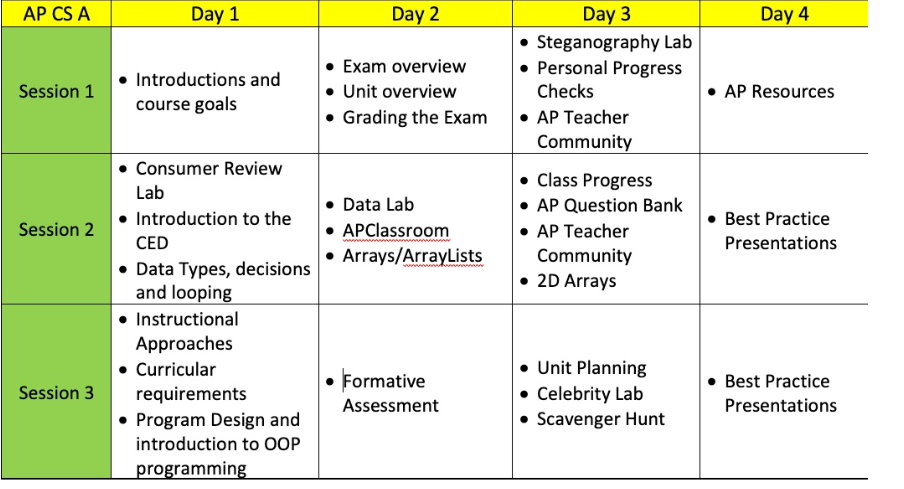 AP* Seminars Silicon Valley 2024 Online
Advanced Placement Computer Science A

Objectives and Course SYLLABUS
This course will provide an overview of the content and structure of the AP Computer Science A® (AP CSA) curricula. Teachers will focus on object-oriented programming methodology, with emphasis on problem solving and algorithm development through group participation. Participants will explore how the development and analysis of standard algorithms and the use of fundamental data structures within the AP CSA framework can support their classroom instruction in preparing their students for the AP CSA exam. Focus also will be placed on both multiple-choice and free-response aspects of the exam. In particular, case studies Consumer Review, Data, Steganography and Celebrity Labs and their implementation, will be shared. It is advisable that participants be familiar with Java.